JOIN FIRST2 NETWORK on your Campus!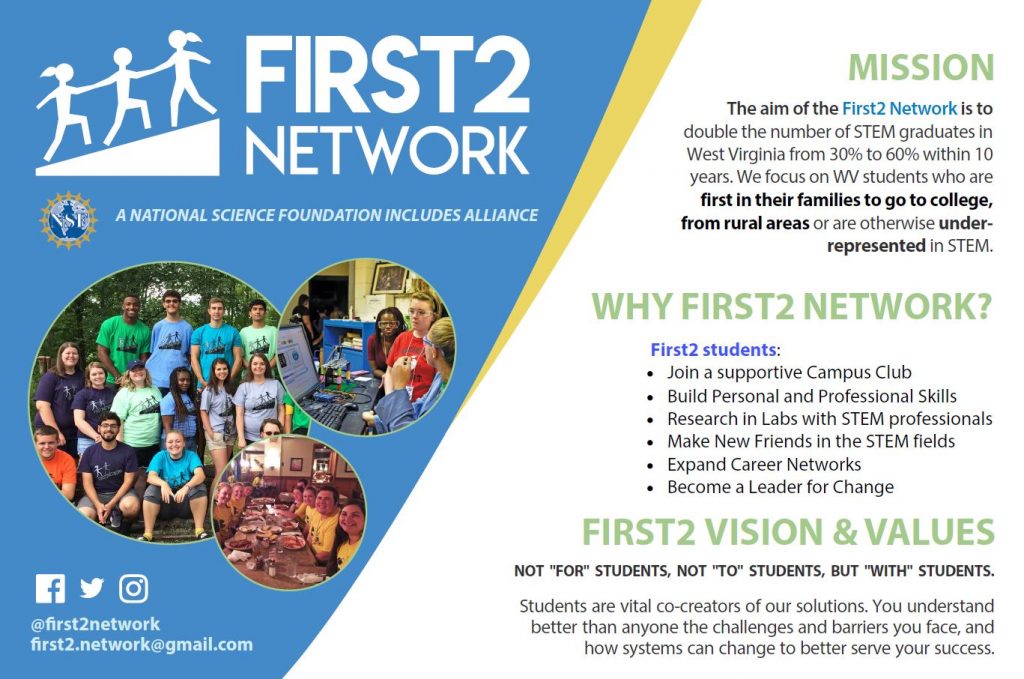 Is First2 Network right for you?
The First2 Network is for students who are enrolled in a WV college or university plan to major in a STEM field AND are either:
First Generation College Students (this means that neither of your custodial parents finished a 4 year degree).
Underrepresented in STEM (For the purpose of this project under-represented is defined by the National Science Foundation as: women, persons with disabilities, Black/African American, Hispanics of Latinos, and American Indians or Native Americans).
From extremely rural, under-resourced areas in West Virginia.
PAID OPPORTUNITIES
First2 Network and your College or University recognize the value of having students at the table to inform decision makers of problems that need to be addressed to improve STEM student success and to co-create solutions. First2 Network builds student leaders to take on this vital role, through the "Scholars" and Directors" program. Learn more below:
SUMMER PROGRAMS
Some First2 campuses offer programs that engage students in research activities. First2 helps to fund campuses to host a summer bridge program for students entering their freshman year. Learn more here.
FIRST2 SCHOLARS JOB DESCRIPTION
Updated 11.14.2022
PURPOSE:
The First2 Network is funded to learn how to help more students be successful in completing a STEM degree, with a target specifically of the first two years in college, since that is the time when most students withdraw. Central to First2 is student voice.
We work with students to better understand how to help them, both our First2 students and all STEM students. The National Science Foundation has many funding streams for scholarships and summer research programs. First2 was not funded to do these things, but was instead funded to learn how the activities provided can best be offered to support this student success.
In that process, we may fund summer immersive research experiences or academic year activities to learn about their impact. No scholarships were proposed in First2. They are a mechanism to fund scholars so we may learn about the potential impact on student success of the various activities. This list of activities has been refined with student input as well as input from other network stakeholders. We continue to refine the list of activities to better lead to student success and network learning.
First2 supports students to help build a connected network that improves retention outcomes in STEM for all students.
Students are funded to do work on three fronts: to help themselves, to help other STEM students and to help the network drive institutional learning and change.
Student stipends are based on a rate of $15/hour.
Participation tiers, hours, and stipends

:
First2 Scholar (Tier 1): 50 hours per semester. $750/sem

Best for students who need a lighter workload
Best for students who have other funding for research (e.g. RAP or Research Rookies, etc

First2 Scholar (Tier 2):: 100 hours per semester. $1500/sem

Our standard participation level for students

Tier 3: First2 Student Directors: 150 hours per semester. $2500/sem
Tier 4: First2 Student Co-Chair: 240 hours per semester. $4000/sem
Scholar Activities:
Select activities from the following menu to help yourself, help others, and help the network grow and learn. These activities are designed to build your success and the success of others.
Core activities:
Do a research internship in a lab on campus or do an internship or job shadow with a company or lab in your field of study.
Be a First2 Ambassador. Present what you've learned to your high school, to leaders at your school, or to the legislature or other state leaders. (Additional training provided). These can be virtual or in-person. (travel paid)
Attend First2 campus club, student statewide, and/or First2 working group meetings. These meetings can be a mix of fun and fellowship, First2 business, and study groups. Online options are fine, and working group meetings are generally online.
Journal about your experience as a STEM student to help with First2 reporting, outreach, and network reflection.
Other optional activities:
Attend tutoring, office hours, and study groups (max 3 hours per week)
Tutor or mentor other students.
Prepare a resume, personal statement, or cover letter.
Prepare an application for an internship or REU (Research Experience for Undergraduates) (whether or not you submit it)
Create a LinkedIn profile and connect with alums from your college and high school to help you search for jobs and internships.
Pick up tasks to help with from other network members. For example, make small videos for First2 outreach and publicity team about what you are doing with First2.
Test change ideas with clubs, working groups, student-led projects (PDSA).
Serve as an author, co-author, or contributor on a First2-related publication.
Come to First2 conferences or represent First2 at other conferences (for example WV Academy of Sciences meetings.) (travel paid)
Student designed First2 project of your choice (submit proposal for approval)
Minimum Scholar participation requirements to continue in the First2 program.
Create and submit your personalized schedule for First2 work at the beginning of the semester.
Do your time-sheet correctly and on time, before the 15th of the following month.
Respond promptly to all research and evaluation requests.
Attend 1-2 required all-student work days. These will be scheduled before the start of the semester, and are designed for professional development and network learning. We will try to schedule these work days in the week or two before each semester starts, so it does not conflict with class and is not during important rest, rejuvenation, and family times.
Attend 1 First2 conference per year (at least 50% of the full conference).
Attend a minimum of 4 campus club meetings and 3 all-student statewide FIrst2 meetings per semester.
Complete at least one reflective journal per semester, used for First2 reporting, outreach, and network reflection.
FIRST2 DIRECTORS: Additional requirements
Do everything above plus…
Serve the network in a leadership capacity. Examples include but are not limited to:

Student Director Officer position
Campus Network Liaison
Club leadership activities
Regularly scheduled tutor for other students
Social Media team
Working group team member (STEM Immersion, Faculty-Student, Industry Advisory, College Readiness)

Participate in Student Director weekly meetings
Monthly direct contact with assigned freshmen (weekly is best)
Help lead your campus club by offering activities for students.
Create opportunities on your campus for student engagement and public awareness.
1 Student-led project of choice (PDSA study)
Additional requirements for Student Leadership Co-chairs

:
Serve as the student liaison(s) to Leadership team, steering committee, and student leadership staff teams. At least one of the student co-chairs should plan to attend the monthly steering committee meeting with the other working group co-chairs. These students will serve as official points of contact between Leadership/Steering and our Student Directors and state-wide student leadership group.
Pacing
First2 Scholars should be engaging weekly with FIrst2 activities, unless it's exams week or you are done for the semester. We recommend you schedule an average of 7 hours a week for FIrst2 activities when you design your schedule and stay on track.
Bonus performance (above and beyond hours)
For scholars or directors that demonstrate excellent performance and also exceed their hourly requirements. This includes meeting all deadlines in a timely manner, demonstrated professionalism, meeting goals and commitments, and high quality of work. The First2 student support staff will evaluate students who exceed hours to ensure they meet this criteria. This bonus will be pro-rated at $15 per hour based on the number of hours you have completed in excess of your requirements during the semester, and will be paid 6-8 weeks after the close of each semester. These funds are not guaranteed and are distributed as available. Please discuss any plans to spend extra hours on First2-supported activities with your supervisor and the High Rocks in advance.
Can't complete your minimum requirements? Having trouble?
If you can't attend a campus club or student statewide meeting, attend another FIrst2 working group meeting. You can watch a recording later if you want to – that's up to you, but just attend another meeting or two with another First2 group to have that count for all your meetings so you'll get a chance to build relationships with others and participate in input and decision-making in real time. If you need to watch a meeting later, you can count that time as hours, but it will not count towards your minimum in-person meeting requirement.
If you're having trouble connecting with First2 scholar activities, reach out to the Student Coordinator for support in making a plan to get on track. If you can't complete something, you can always propose an alternative and these will be reviewed on a case-by-case basis for approval.
ANY requirement that does not work for your specific circumstances can be addressed on an individual basis. Email the student coordinator and suggest an alternative that achieves the same end goal and the student support staff team will review your request. To date, all reasonable alternatives have been approved, so don't be shy to ask. We know everyone has different things that come up in family and in life.
RATIONALE FOR THIS PROGRAM DESIGN:
Research, and Internships: A key piece of our project is improve STEM students' STEM identities and professional skills by engaging them in research, immersing them in the professional STEM community early in their academic career.
Ambassador Activities: Another core piece of our grant proposal is to have First2 students serve as ambassadors to other stakeholders – both to their hometowns and to decision-makers in leadership roles. Through Ambassador activities, First2 Network help to drive education and systems change so that all students can be more successful. First2 students do outreach to their hometown high schools to help better prepare potential STEM students from their hometowns to transition to and through STEM degree programs in college, often by sharing their own experience of college, reflection on what in high school prepared them well, what did not prepare them well, and tips for success.. FIrst2 students also meet with college administrators, legislators, and other institutional and state leaders to share their experiences and to share what First2 is learning about how colleges can change so that more students thrive, graduate, and enter a satisfying career in STEM. This also provides a way for First2 students to "pay it forward" with a service activity.
Educational Research and Evaluation: For the network to function and accomplish our goals to improve the STEM ecosystem to double to the graduation rate for all STEM students, we need to maintain professional standards of accountability. One of the main goals of the network is to learn with our students about barriers and solutions, and this work is led by our research and evaluation teams.
Conferences: First2 students have reported that one of the biggest benefits to them in the FIrst2 Network is the personal and professional networking. Our conferences are where the majority of this networking happens. Students are also integral voices as we present and reflect together during these convenings, and it is essential to have students at the table to make sure our work is grounded with student realities.
Journals: We need to be able to share student experiences and reflections across the network, with strategic partners, with NSF, and with funders. These experiences should be real and authentic, and capture both successes and challenges. Although we spend time reflecting verbally in conversations, these journal entries are designed to share written insights. They are extremely valuable in network reflection, change, and reporting.
Statewide Student Meetings: Students have reported that knowing the other students across the network and building relationships in statewide student spaces is important to students and to the health of the network. Our statewide student meetings were created to fill this need.
Campus Clubs: Campus Clubs are the main way within First2 to build a supportive social community that includes peers, faculty and others at your school. Our research has shown connections between level of engagement and leadership in First2 activities, and academic persistence. Students who have more interaction with their First2 campus club have been shown to have more input and leadership in the First2 Network. Students with higher engagement in the Network are more likely to persist in their STEM degree programs! Clubs have been an important place where students receive support from older students and staff, and have been critical in supporting students to persist in STEM degrees.
---
---