NSF INCLUDES is one of the NSF 10 Big Ideas. The Big Ideas represent unique opportunities to position the United States at the cutting edge of global science and engineering leadership through pioneering research and enabling activities. For the United States to remain the world leader in STEM innovation and discovery, it must identify and develop talent from all sectors to become STEM professionals.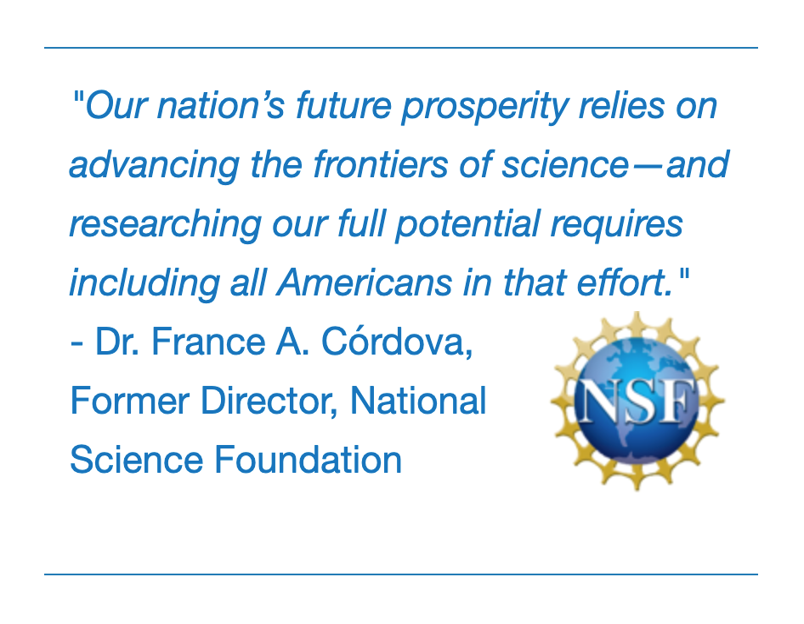 National Science Foundation
Inclusion Across Communities of Learners of Underrepresented Discoverers in Engineering and Science
(NSF INCLUDES)
INCLUDES is a national initiative to enhance U.S. STEM discoveries and innovations focused on NSF's commitment to diversity, inclusion, and broadening participation in these fields. The vision of NSF INCLUDES is to catalyze the STEM enterprise to work collaboratively for inclusive change, resulting in a STEM workforce that reflects the population of the Nation.
The INCLUDES grant funding is what enabled First2 to expand.
Primary Investigators (PIs)
Erica Harvey, Fairmont State University
Sue Ann Heatherly, Green Bank Observatory
Sarah Riley, High Rocks Educational Corporation
Juliana Serafin, WV Higher Education Policy Commission
Gay Stewart, West Virginia University
NSF Funding
In September 2018, First2 received a National Science Foundation (NSF) INCLUDES award of $7.15 million for the next five years. First2 is one of only eight NSF INCLUDES alliances funded nationwide. This funding, coordinated through the West Virginia Higher Education Policy Commission (HEPC), allows us to develop a statewide network of innovative stakeholders who will collaborate to solve the STEM persistence problem.