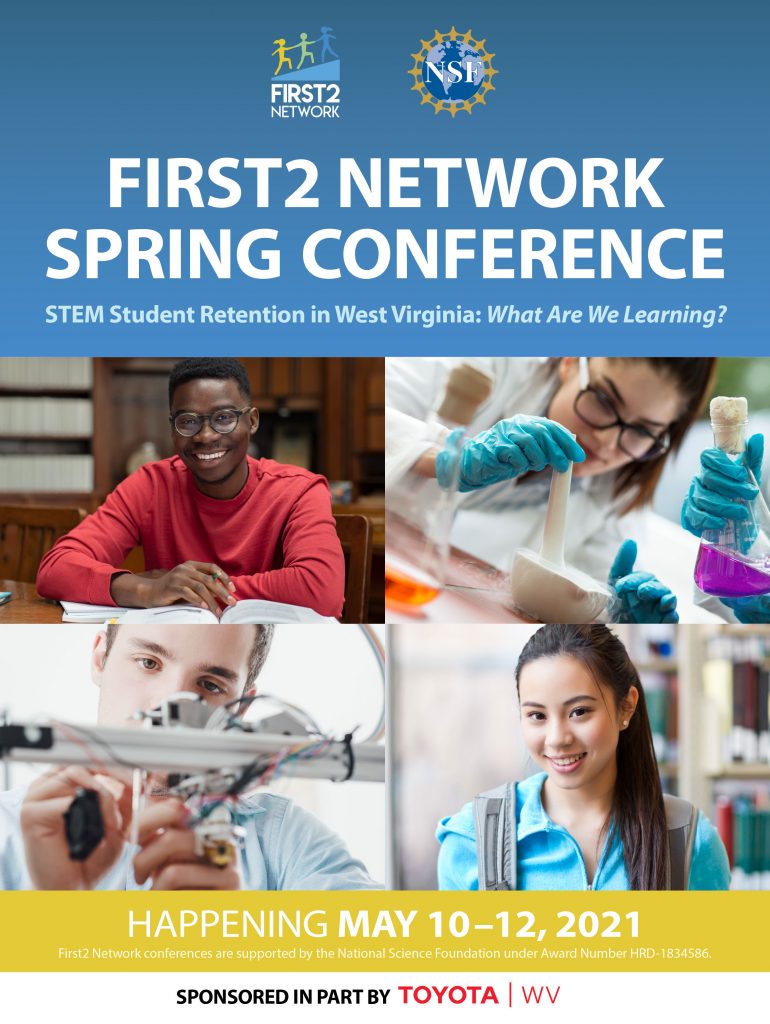 STEM Student Retention in West Virginia:
What are We Learning?
May 10 – 12
Links to Zoom recordings and the chat transcript are under each session.
Sunday, May 9
7 p.m. – Preconference Trivia
Please join us this Sunday, May 9th, at 7 p.m. for a fun hour of STEM trivia hosted by the student leaders of the First2 Network. This event is a "change idea" meant to address a problem that students diagnosed across the network – it's hard for students to work with "adultier adults" when they aren't socially comfortable and connected to those same adults. We are testing whether a bit of fun first would help students feel more comfortable and connected to adults across all industries and institutions.
Monday, May 10
12- 12:30 p.m. – New to First2
Facilitated by Jade Irving
Join this session if you are new to the First2 Network and would benefit from an orientation. Also, join this meeting if you need to register to have an account on our website. We will walk you through the steps to get you registered!
Resources
12:30 – 1:30 p.m. – Drop Into a Working Group
Facilitated by First2 Network Working Group Co-Chairs
Drop ins will be open space for people to pop in and learn about/join different working groups.
2 – 3:15 p.m. Holler Back: Let's Talk About What We're Learning
Research Team
Join this session to learn the main takeaways regarding what our research team is learning about rural, first generation STEM student retention.
Resources
3:30 – 4:45 p.m. – Promising Practices and Shared Learning
Facilitated by Michelle Richards-Babb, Sara Sawyer, Michael Fultz, Kathryn Williamson
The First2 Network operates by testing change ideas. Change ideas are documented, along with their impact on outcomes for students. We continually test our ideas using a Networked Improvement Model. This model allows members of the First2 Network to engage in shared learning. Join this session to learn more about our change ideas and how we implement them in our work with students. Hear from First2 Network students about their participation in engaging in collective learning (embedded student project).
Resources
5:30 – 6:45 p.m. – Career Seminar with Industry Leaders
Panel Discussion
This panel is designed to encourage conversation between students and industry professionals. Panelists will represent a range of STEM professionals and students will have an opportunity to join breakout rooms with the panelist of their choice for small group discussion.
Resources
Tuesday, May 11

12 – 1:15 p.m – Engaging in Collective Learning
Panel Discussion
Panelist & Moderator: David Sawyer, Co-founder of Converge
Co-moderator: Sarah Riley, ED of High Rocks Educational Corporation
Panelists:
Bethany Young Holt, Co-Founder, ED of the Initiative for Multipurpose Prevention Technologies
Simran Mulchandani, Founder, CEO, Project Rangeet
Talia Milgrom-Elcott, Founder, ED, 100kin10
Join this session to get a full rundown of the impact of network formation and growth. This session will also give you an idea of what a learning network looks like.
Resources
1:30 – 3 p.m. – Diving Into First2 Learnings
Facilitated by Sue Ann Heatherly and Jared Boyce
Join this session to participate in breakout rooms to discuss First2 data (from PDSA's and Evaluation reports) and the implications on our work. The Study phase of the Plan, Do, Study, Act cycle. We will take a deep dive into our data in small groups. Breakout rooms to engage with data.
Resources
3:30 – 5 p.m. – Building and Deepening Partnerships
Facilitated by Olivia McCuskey from Education Alliance
Join this session to discuss and brainstorm ways to grow new relationships and deepen existing relationships in the First2 Network.
Resources
Wednesday, May 12
10 – 11:15 a.m. – Connecting Professionals Across Institutions to Discuss their Role in Improving STEM Persistence for rural, first-generation students
Administrators
Student Support Services
Community & Technical College Engagement
Other
Faculty, Students, Alumni encouraged to attend to lend their perspectives.
This session is open to all administrators, Student Support Services, Community & Technical College Faculty/Staff, and others to hear perspectives on how we can better support STEM students cross institutionally for rural, first-generation students and underrepresented students. We will share what we are learning as a Network, and we will open the floor to hear from professionals at various higher education institutions across the state to learn more about their approach to supporting these students.
Resources
11:30 a.m. – 12:45 p.m. – The Role of Student Support Services: Strengthening Involvement On Your Campus
Student voice is a core value to the First2 Network. Join this session to hear from students on their experiences in working with student support services. Student support personnel from institutions across the state will take part in conversation with the students to hear their perspectives and share insight.
Resources
Drop Into a Working Group – 12:45 – 1:30 p.m.
Facilitated by First2 Network Working Group Co-Chairs
Did you miss the opportunity to connect with a working group co chair? No worries, here's your chance! Join this drop in hour to pop in and learn about/join different working groups. Feel free to bring your lunch!