First2 Network Members have been busy this spring, getting the word out across the virtual nation. Check out some recent events:
NSF INCLUDES Coordination Hub Twitter Chat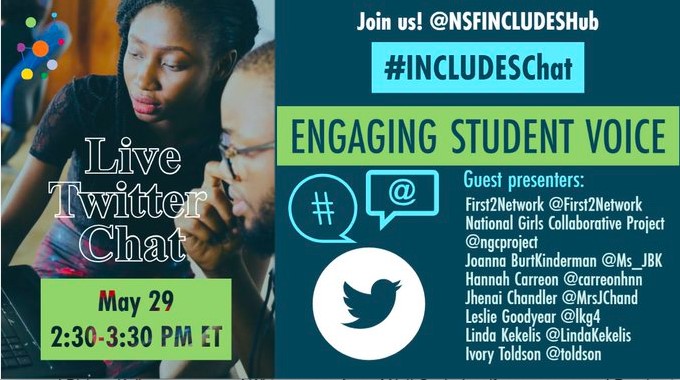 First2 Network's own Hannah Carreon, Doctor of Pharmacy Candidate at Marshall University's School of Pharmacy and Joanna Burt-Kinderman, Pocahontas County instructional coach participated in a Live Twitter Chat to discuss engaging student voice. The chat highlighted the importance of incorporating student voice in broadening participation in STEM fields.
Questions discussed included:
Can you give an example of when a student's input changed the way you do or talk about your work in broadening participation in STEM?
With so much learning moving online, what tools have you found most useful in connecting with students? How do students prefer to share their thoughts and input?
How can our work create an environment where students feel comfortable sharing their voice/being heard?
STEAM Panel at GlobalMindED Conference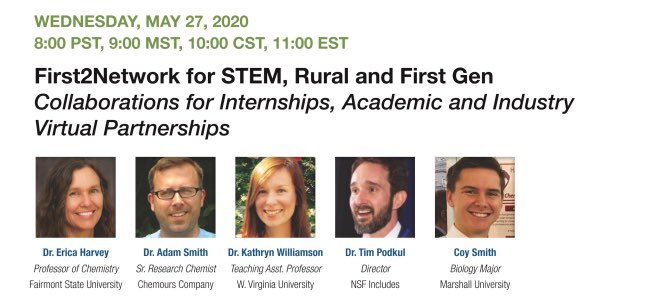 First2 Network presented an online panel at the GlobalMindED conference on May 27, 2020, titled, "First2 Network (NSF INCLUDES) for STEM; Rural and First Gen Collaborations." The presentation describes the INCLUDES National Network and highlights First2 Network initiatives directed at systems change, including work in Faculty-Student Engagement, Immersive Research Experiences (Academic and Industrial), and Student Leadership.
Panelists include Dr. Tim Podkul, Director NSF INCLUDES; Dr. Adam Smith, Senior Research Chemist, Chemours Company; Dr. Kathryn Williamson; Teaching Assistant Professor, West Virginia University; Coy Smith; Biology major, Marshall University, and Dr. Erica Harvey, Professor of Chemistry, Fairmont State University.
View the presentation below or at: https://youtu.be/Gl8yaxjlgVs
First2 in STEM Video Showcase for All: Sue Ann
Each year, NSF-funded STEM education projects are invited to submit a video to a week-long sharing extravaganza organized by TERC. First2 Network participated in the 2020 Video Showcase, with the video: "Student Voice: Solving the Puzzle of STEM Persistence". Once the showcase opens, people representing STEM education projects from K-graduate school get online, search for and watch relevant videos and start conversations.
Conversations regarding our video really zoned in on peer-mentoring. Participants were very interested in the training that we offer our First2 student leaders. Check it out and keep the conversation going. All videos (which are awesome) are available year-round on this site. You might get inspired to make some new friends or collaborators!
First2 Students Present Research Online at WVU and Fairmont State
First2 research students from WVU and Fairmont State University presented their research in virtual symposia this spring, and interested readers can watch the recorded presentations.
Michelle Richards-Babb, in her role as Director of the Office of Undergraduate Research at WVU, worked with her team to develop a WVU Virtual Research Symposium when the University cancelled the face to face event traditionally held in the spring. She and her team generously shared their learning about online presentation tools with Fairmont State University, thanks to a First2 Network connection, and Fairmont State was also able to host their annual Celebration of Student Scholarship virtually as a result.
WVU:
Three First2 Student Members, presented the results of their research at WVU's Virtual Undergraduate Spring Symposium (available Apr. 16-30, 2020 for commenting, but available indefinitely for viewing; https://virtualspringsymposium.wvu.edu/):
Aubrey Cumberledge (Biology; Mentor, Craig Barrett), presented "Phylogenetic Relationships in New Caledonian Palms (Arecaceae) with a Focus on Archontophoeniceae and Chambeyronia."
Jordan Means (Immunology and Medical Microbiology; Mentor: Timothy Eubank), presented "Isolation of Mouse Macrophages and Differentiation to M1 and M2 Phenotypes."
Isabella Hurley (Biology; Mentor: Daniel McNeil), presented "Patient's Expectation of Medication for Dental Pain."
Fairmont State:
Three First2 Student Members presented the results of their research at Fairmont State's Celebration of Student Scholarship, available online beginning April 29, 2020 and continuing all summer for viewing; https://guides.library.fairmontstate.edu/CelebrationOfStudentScholarship .
Sarah Starcovic, Chemistry, and Shannon Knowlton, Architectural Engineering Technology (Mentor, Erica Harvey), presented "Instrumentation Standardization and Reproducibility to Support Hands-On Solar Energy Research" https://fairmontstate.voicethread.com/share/14276698/ Kiersten Lowdermilk, Forensic Science (Mentor, Kristy Henson), presented "Using Dermestid Beetles to Enhance Forensic Science Curriculum.": https://fairmontstate.voicethread.com/share/14276755/
Ambassadors for Change: Statewide Virtual Conversation on First-Gen Issues
First2 Network members and Faculty-Student Engagement Working Group co-chairs, Kathryn Williamson and Michelle Richards-Babb, created a new course at West Virginia University last spring as a direct outgrowth of their involvement in the First2 Network. Called "Ambassadors for Change in West Virginia", the goal of the course is to train students to serve as leaders and allies for first-generation college students in West Virginia. First2 students Gabriella Gill, Isabella Hurley, Jordan Means and Aubrey Cumberledge were members of the class.
As a culminating event, on April 13, 2020, students enrolled in the course hosted a "Virtual Conversation on First-Gen Student Experiences." Seventy seven people interested in first-gen STEM issues, from all around the state, participated in the conversation. This project was supported by a WVU Provost's "Transform This!" award. Pre to post assessment showed participants' awareness of first-gen experiences increased significantly (p<.00001). Written comments also indicated enthusiasm and appreciation ("Keep the conversation going!") and the impact of the featured student voices, which provided "vivid stories," "role models," and a "shared experience."All artifacts can be found at: https://tinyurl.com/WVU-FirstGen-Conversation2020
Collaboration with West Virginia Academy of Science
First2 is collaborating with the West Virginia Academy of Science to host a track of presentations about STEM student success initiatives at West Virginia Academy of Science (WVAS) annual meetings. We are pleased to announce that nine abstracts involving 15 authors from 7 different organizations were accepted for this track at the 95th annual meeting, which was originally scheduled to be held at Fairmont State University on March 21, 2020. The meeting has been moved to 2021 and we hope to see all the accepted presentations, plus more, next year!
Funds are available from First2 to support registration, meals, mileage and housing (if needed) for WVAS presenters whose abstracts are accepted for presenting about student success initiatives. Funds are also available for first generation students presenting their research at the conference.